Choosing the right accounting software is a critical decision for any business, especially when your needs evolve beyond the capabilities of your current system. While Xero offers a robust suite of tools for managing your finances, you may discover that Reckon One aligns more closely with your business's unique requirements. In this blog, we'll discuss the distinctive attributes of Reckon One and how a migration facilitated by MMC Convert can pave the way for enhanced operational efficiency.
Features of Reckon One Accounting Software
1.Real-Time Analytics
Unlike many other platforms, Reckon One provides real-time analytics that empowers you to make instant business decisions based on the most current data.
2. Mobile Accessibility
With Reckon One, you're not tied to a desk. The software's mobile-friendly design allows you to manage your finances while on the go, thus ensuring you're always in control.
3.Budgeting & Forecasting
Planning is vital for any business. Reckon One's advanced budgeting and forecasting tools help you set achievable goals and measure your performance against them.
4.Time Tracking
Keeping tabs on billable hours can be cumbersome. Reckon One simplifies this with an integrated time-tracking feature, making invoicing and payroll more accurate.
5.In-Built Payroll System
Say goodbye to third-party payroll systems. Reckon One comes with a built-in payroll system that streamlines your payroll processes.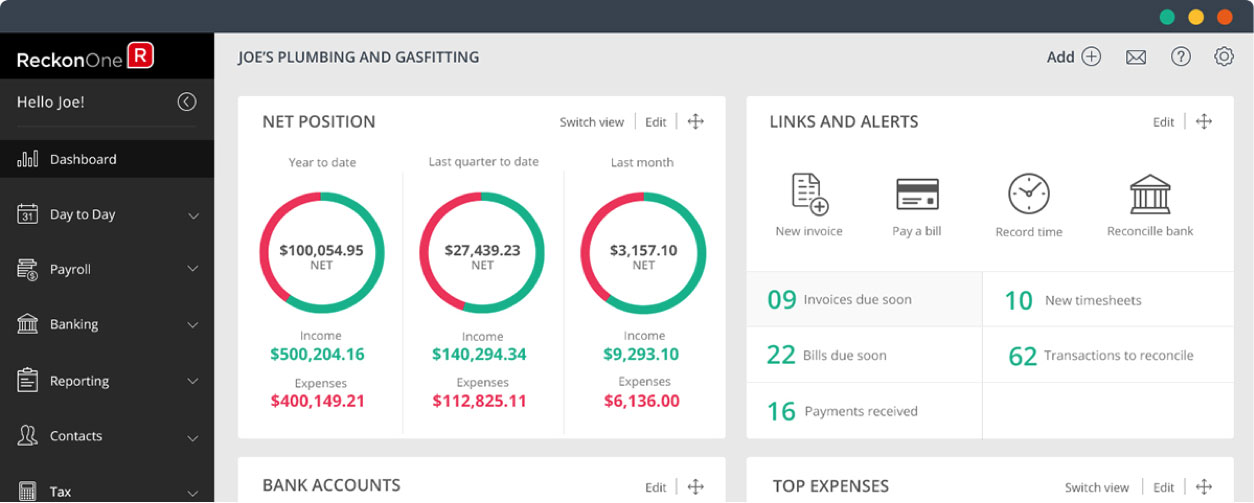 Benefits of Reckon One Accounting Software
1.Financial Control
Reckon One grants unparalleled control over your finances, allowing for more precise management.
2.Simplified Tax Compliance
The software's tax tools ensure that your business remains compliant with tax regulations, thus saving you from potential legal complications.
3.Cash Flow Management
Reckon One offers specialized tools that provide insights into your cash flow, helping you maintain a healthy balance between income and expenditures.
The Conversion Process with MMC Convert
Moving from Xero to Reckon One is made convenient with MMC Convert:
Data Assessment: Our experts scrutinize your Xero data to outline the conversion prerequisites.
Customization: Specific data field requirements? MMC Convert accommodates customizations effortlessly.
Data Transfer: We oversee the data migration, confirming that all aspects—from historical data to payroll details—are transitioned without a hitch.
Final Review: We conduct a stringent post-migration review to guarantee data integrity.
Post-Conversion Support: Your migration journey doesn't end with the transfer. We offer ongoing support to ensure you get the most out of your new system.
Why MMC Convert for Migrate to Reckon One
Choosing MMC Convert for your migration to Reckon One offers a range of advantages. Our vast experience in accounting software migration ensures a smooth and reliable data transfer process. When you migrate with MMC Convert, you select a service committed to safeguarding your data and optimizing your operational effectiveness.
Contact Us for more information on migrating from Xero to Reckon One seamlessly. Our team is eager to answer your queries and guide you toward a more efficient accounting experience.