QuickBooks Online is the most popular online accounting software for SMBs because it is easy-to-use, affordable, and well-understood by accountants and bookkeepers.
However, there are certain limitations which you might be facing while using QuickBooks Online:
It's very easy to manipulate the data in QuickBooks Online.
Quickbooks Online has limitations on how many files it could handle at one time.
There are limitations in QuickBooks Online invoicing system compared to what you might find in an ERP.
QuickBooks Online users are not able to restore to a previous version of their books.
So, you must be searching for a business solution which can solve all your above problems as well as handle accounting, inventory management, revenue forecasting, and other business processes.
MYOB Business is a cloud-based accounting software designed to run all areas of your business, not just the accounts. It is a leading provider of ERP Software in Australia & New Zealand. There are integrated modules and functions for Accounting, Inventory Management, Job Costing, Point of Sale,  Customer relationship management (CRM), Fixed Assets, Analytics and Standard Reporting Functions.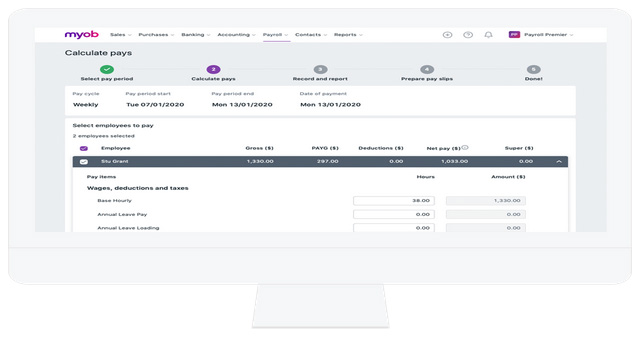 Benefits of MYOB Accounting Software for Businesses
Based in Australia & New Zealand, MYOB Business cloud accounting software has solutions to help you automate your accounting processes irrespective of the size & industry of your business.So, you can save time & money as well as gain better accuracy & visibility of your data from MYOB Business.
The significant benefits of having MYOB Business Software for your business are:
MYOB Business allows you to access the data and information using your smartphone or laptop.
Traditional accounting techniques were lengthy and susceptible to errors. MYOB Business saves time & money by automating the conventional method of accounting.
MYOB Business is popular due to its high data accuracy standards. Built-in controls make it easy to search and remove duplicate entries and other data issues.
Several other benefits of MYOB Business are:
1. MYOB Business allows you to create payment summaries to send to your customers for better clarity on terms of the payment.
2. MYOB Business accounting software makes it easier to perform reconciliation with your bank accounts.
3. You can generate real time expense reports & customize them with MYOB Business.
4. MYOB Business enables you to access your expenses & track them using the software across multiple devices. Local Australian suppliers have a partnership with MYOB Business, making it easy to match bills from those suppliers with what is written down on your Bank transaction records.
5. You can calculate your GST tax, fill out BAS, & generate tax reports through MYOB Business Accounting software.You can also pay taxes directly to Australian taxation office though MYOB Business platform for ease of tax compliance.
6. The automation & digitization provided by MYOB Business accounting software makes it easy to keep track of every transaction on the platform.
7. MYOB Business can be used to keep a track of your inventory. You can view purchase trends, inventory turnover, profitability of your stock on the accounting software.
8. MYOB Business enables you to set budgets for specific projects of your business. You can track how the budget has been spent on a project, and view the Return on investment on your project for better reviewing & forecasting future projects.
9. MYOB Business allows multi-currency accounting with live exchange rates refreshing every 5 min on the software.
Seamlessly Migrate from QBO to MYOB Business with MMC Convert
If you're searching for MYOB Business experts in Australia & New Zealand to help with migrating from QuickBooks Online to MYOB Business, MMC Convert can help. There are several MYOB Business pricing plans to choose from depending on your business needs.
You can rely on us as we aim to make the transition as smooth as possible for you. We help you  in taking maximum benefit from MYOB Business and reduce or even eliminate errors from your accounting & Bookkeeping process.
Contact us today to see how we can help your business successfully migrate from QuickBooks Online to MYOB Business. We will offer you the best tailor-made migration services for your business.