Are you a Business owner & using Xero Accounting Software for day-to-day accounting tasks for your business?
New Zealand-based Xero Accounting Software is a great tool for professionals who are into bookkeeping and want extensive 24/7 support anywhere, anytime.
However, you must be facing these problems while using Xero Accounting Software
Xero Accounting Software may support recurring invoices, but it lacks automatic recurring payments.
The Time Tracking feature is one of the most notable features of bookkeeping software. Xero accounting software lacks this feature in its starter and standard plans.
The initial set-up of Xero Accounting software is a bit complicated for those who are unfamiliar with bookkeeping.
You may need a different accounting software if there are large volumes of business transactions.
Do you want to know about an accounting software which can solve all your above problems?
MYOB Business is cloud-based accounting software designed to help businesses of any size across Australia and New Zealand. It takes care of GST, invoices, reporting, expenses & payroll (including Single Touch Payroll). It has a range of features designed to help businesses across Australia & New Zealand – whether they're a start-up or a large business. MYOB Business is designed to save time, increase productivity, and stay up to date with ATO obligations.
Being an Australian-based company, MYOB Business emerged as a better platform than Xero accounting software due to its fast compliance with Australian laws and regulations. MYOB Business reduces manual processing which may cause errors or inaccuracies. There are no upfront capital expenditures associated with its implementation as it is a cloud-based accounting software. Therefore, MYOB Business is one of the most used accounting software by  businesses in Australia & New Zealand.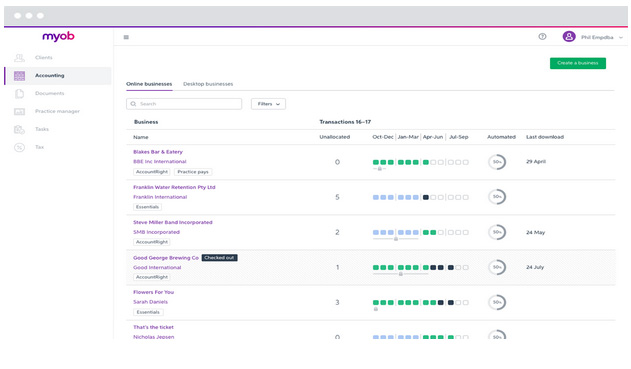 The Key benefits of using MYOB Business are:
1. Automatic Reconciliation – MYOB Business enables automatic accounts reconciliation with accurate bank feed from multiple reputed institutions.
2. Expense tracking – MYOB Business automatically imports your banking and credit card transactions securely and directly. Hence, you can keep a track of your expenses.
3. Easier Tax calculation – PAYG, GST, and BAS reports are all created in MYOB Business so you can send them directly to the ATO. This accounting software creates an in-depth summary report that compares the various EOFY reports. MYOB Business makes it easy for businesses to stay compliant with tax, payroll and accounting authorities.
4. Invoice Customization – MYOB Business enables you to give your customers more ways to pay with online invoices through AMEX, Visa, Mastercard or BPAY payments. In MYOB Business, the invoices are sent with a payment summary so the customer is clear on the due payments.
5. Real-Time Reports- In MYOB Business, the report data is pre-filled using the employee time sheets, receipts, and past reports, ensuring no data discrepancy occurs. It offers detailed reports on your finances & any inconsistencies between payments received and invoices raised.
6. Audit Trail – MYOB Business enables you to trace every transaction in detail to help retrieve any discrepancies in your book of accounts.
7. Tracking Inventory – With MYOB Business, you can easily view your purchase trend, understand what you should buy and compile the reports to make an informed decision.
8. Accessibility- MYOB Business gives users access to their accounts using most devices, including desktop and laptop computers, smartphones, and tablets (iOS and Android).
WHY MMC Convert for migration from Xero to MYOB Business?
At MMC Convert, we can manage your migration from Xero to MYOB Business and set up end-to-end. We will transfer all your data without any downtime and also ensure that the entire process of migration to MYOB Business is best geared for your ongoing business needs.
If you're searching for MYOB Business experts in Australia & New Zealand to help with migrating from Xero to MYOB Business, MMC Convert can help.
We pay attention to every minute details of your accounting process. This helps you to take benefit from MYOB Business and reduce or even eliminate errors from your accounting & Bookkeeping process.
Contact us today to see how we can help your business successfully migrate from XERO to MYOB Business. We will offer you the best tailor-made migration services for your business.