If you're contemplating a move from Reckon to MYOB, you're likely wondering about the complexity, downtime, and accuracy involved in the transition. Well, worry no more. MMC Convert offers a hassle-free migration service that safely transfers your data, payroll, and financial transactions to MYOB. We help you make the switch smoothly, allowing your business to continue its operations seamlessly.
Why MYOB?
MYOB, a cloud-based accounting solution, is specifically designed for businesses of all sizes in Australia and New Zealand. The platform offers robust features like GST management, invoice generation, comprehensive reporting, expense tracking, and even Single Touch Payroll. MYOB is committed to meeting the ever-changing needs of businesses, adhering strictly to Australian laws and regulations. It minimizes manual inputs, reduces errors, and elevates productivity.
The Advantages of MYOB
Here's a snapshot of the key benefits you can expect when you switch to MYOB:
1. Automatic Reconciliation: MYOB automatically aligns your accounts with trusted bank feeds, ensuring your balance sheet stays accurate.
2. Expense Tracking: You can monitor your expenses efficiently as MYOB directly imports transactions from your bank and credit card.
3. Effortless Tax Reporting: Generate PAYG, GST, or BAS reports and easily send them to the tax office.
4. Invoice Customization: Offer various payment methods to your customers, including AMEX, Visa, Mastercard, and BPAY.
5. Real-Time Reporting: Gain accurate insights into your business with pre-filled reports based on timesheets, records, and receipts.
6. Transaction Traceability: The software tracks each transaction meticulously, making resolving discrepancies easier.
7. Inventory Management: Get a comprehensive view of your purchase trends and make informed buying decisions.
8.Universal Access: Operate your accounts from multiple devices, be it desktop, laptop, smartphone, or tablet.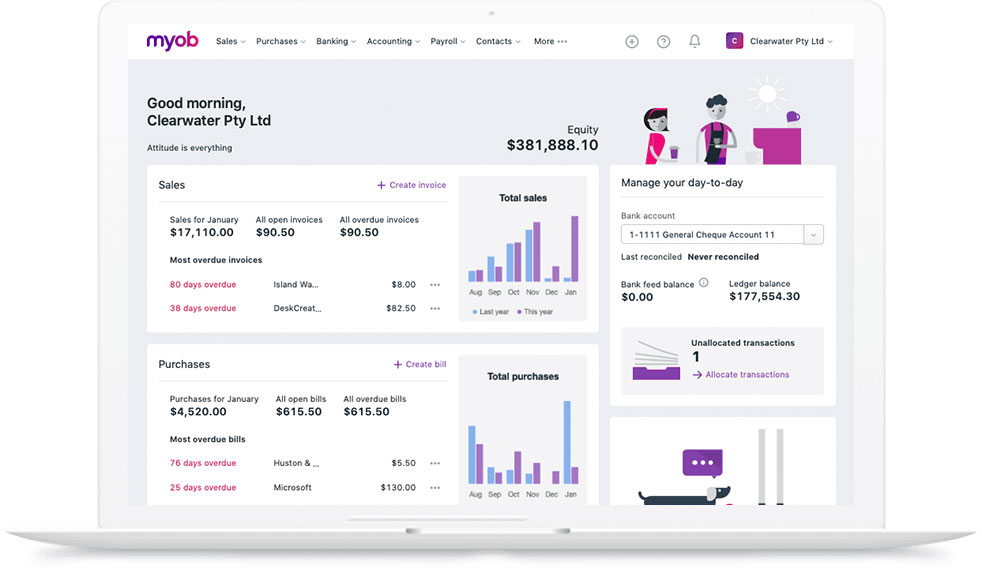 Why Migrate from Reckon to MYOB?
Reckon One has been a popular choice for many businesses; however, MYOB offers several advantages tailored to the Australian and New Zealand markets. MYOB's compliance with local laws and user-friendly, efficient platform make it a more attractive option for many businesses looking to upgrade their accounting software.
Why Choose MMC Convert?
MMC Convert is your go-to solution for migrating from Reckon One to MYOB. Our process is meticulously planned to ensure zero downtime, and we tailor the migration to suit the specific needs of your business.
MMC Convert has got you covered if you're based in Australia or New Zealand and are looking for migration experts. We pay attention to every small detail, ensuring you can leverage MYOB's features without hiccups.
Transitioning your accounting software doesn't have to be a nightmare. With MMC Convert, you get a stress-free, accurate, and quick migration from Reckon to MYOB. Our team of experts ensures that every tiny aspect of your accounting is taken care of, allowing you to focus on what matters most: running your business successfully.
Contact us today to learn how we can facilitate your move from Reckon to MYOB. We offer bespoke migration services tailored to the unique needs of your business.
So, make the switch today and let MMC Convert handle the rest. Experience accounting the MYOB way — more efficient, more user-friendly, and ideally suited for businesses in Australia and New Zealand.