Are you already using MYOB AccountRight for your business accounting needs?
But, you are considering to move from MYOB AccountRight for some better business solution.
We're delighted to handle all the hard work for you if you've found that MYOB Business perfectly suits your needs after exploring all options.
Let our migration services team transfer your data to MYOB Business so you can focus on what really matters- managing your business successfully.
MYOB Business is a cloud-based solution that simplifies accounting for businesses of all sizes in Australia and New Zealand. MYOB Business streamlines the management of GST, invoicing, reporting, expenses, and payroll, ensuring a hassle-free experience. Featuring a comprehensive array of tools, it caters to the needs of businesses in Australia & New Zealand, from start-ups to large corporations.
What makes MYOB Business a favourable choice?
Based in Australia and New Zealand, MYOB cloud accounting software has solutions to help you automate your accounting processes no matter the size and industry of your business.
Updates are automatically delivered to your MYOB Business software.
MYOB Business enables easy online accounting with the freedom and flexibility to manage your business anytime, anywhere from your PC, Mac or tablet.
MYOB Business helps in better cashflow management, easier ATO compliance
MYOB Business offers secure online back-ups with incomparable phone and online support.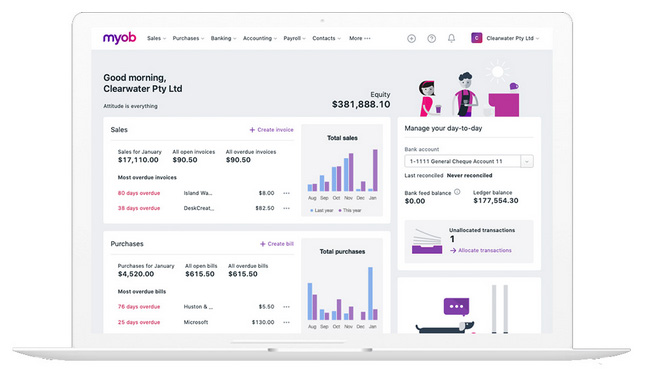 How to Migrate to MYOB Business?
Businesses can convert historical data from MYOB Accountright to MYOB Business with MMC Convert. We guarantee a seamless accunting software conversion with our capable team and efficient systems.
The migration process typically includes the following steps:
To begin, contact us and we'll assess your current accounting software and data.
We'll then plan the migration process accordingly and work with you every step of the way.
Finally, we'll migrate your data to MYOB Business and help you get started with the new software.

The various other benefits of using MYOB Business are:
MYOB Business allows you to also create payment summaries to send to your customers for better clarity on the terms of the payment.
MYOB Business enables us to save time by eliminating the manual tasks involved in business operations.
MYOB Business makes it easier for businesses to stay complaint with tax, payroll and accounting authorities.
PAYG, GST, and BAS reports are all created in MYOB Business software so that you can send them directly to the ATO.
MYOB Business is a flexible and adaptive software, tailored to meet the evolving needs of your business. You can start with accounting and then add other capabilities as required.
6.Expense tracker in MYOB business helps you track your business expenditures.
MYOB Business integrates with over 350 apps that streamline your accounting and overall business processes.
Why MMC Convert for migration from MYOB Accountright to MYOB Business?
MYOB Business is one of the most used accounting software by businesses in Australia & New Zealand.
If you're seeking assistance in migration from MYOB Accountright to MYOB Business from experts in Australia & New Zealand, look no further than MMC Convert.
MMC Convert will ensure that your move from MYOB Accountright to MYOB Business is as seamless and easy as possible. Our years of experience in transferring businesses from one accounting software to another make us experts in the field.
In few simple steps, you can easily transfer all your historical transactions and data into MYOB Business. It doesn't get any easier than that!
Get in touch with us today for expert guidance on how to seamlessly transition from MYOB AccountRight to MYOB Business. We would be happy to answer any questions you have and help get you started on the path to success!