Implementing new accounting software can be extremely challenging. The most critical aspect of the process is to retain the quality and viability of data while performing data conversion or data migration from the existing accounting software to the new one. Though these challenges are inescapable if you take the decision of moving to better accounting software, they can be taken care of with the assistance available from an expert.

The recent tie-up between Xero Asia and MMC Convert is in absolute sync with the previous sentence, where Xero is the 'better accounting software' and MMC Convert is the 'expert' facilitating data migration. MMC Convert has entered in an exclusive agreement with Xero Asia wherein the former is assigned the task to handle data migrations from various accounting software platforms to Xero for Xero accounting partners and customers located in different parts of Asia.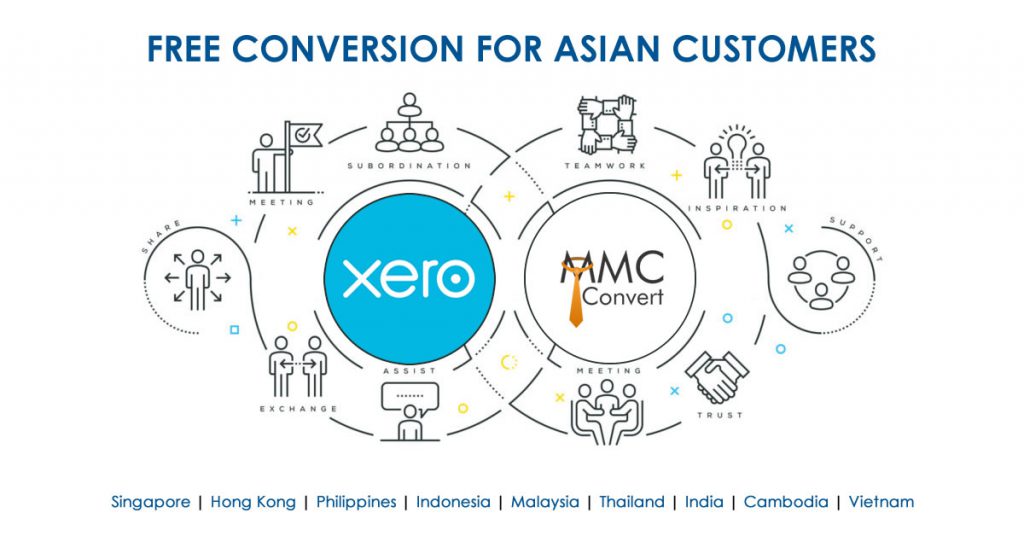 First of All, Why Migrate to Xero?
Xero is a cloud-based accounting solution which adds flexibility to accounting data access and usage and eliminates the need for costly backups.
There exists a large Xero ecosystem comprising of exciting add-ons and tools that make handling accounting processes easier than ever.
Xero mobile app further enhances accounting efficiency. And, guess what? It is available for free download for both Apple and Android devices.
With an absolutely simple design and a friendly user dashboard, Xero makes accounting simplified even for the beginners.
Customized invoicing, cash coding, bank feeds and many other great features have added significantly to the Xero subscribers in the recent years.
Above all, Xero is highly secure, uses high-level encryptions and other procedures to ensure data security.
Why Do You Need an Expert?

Data conversion to Xero requires a lot of preparations and tasks that can be cumbersome for you. For example, the process calls for:
Involvement of different members of your team or staff that may affect their productivity.
Use of the right formats that adhere to the Xero databases.
Top-level accuracy so that there is no ambiguity or inconsistency in data.
Data consistency across various systems of the organization.
Handling data complexities that arise due to merging of structured and unstructured data forms.
MMC Convert ensures a step-by-step process to address every concern associated with data conversion to Xero. Find about it in detail in the following sections.
How Does MMC Convert Help?
MMC Convert can help you in a number of ways, irrespective of your current accounting software and your location in Asia. The company offers assistance, for:
Migration from various accounting software solutions like MYOB, QuickBooks, QuickBooks Online and EXCEL to Xero.
Entities located in the countries like Singapore, Hong Kong, Malaysia, Philippines, Cambodia, India, Indonesia, Thailand, Vietnam, Sri Lanka and Papua New Guinea.
Benefits of Migrating to Xero with MMC Convert
Free Migration Campaign: The most exciting aspect of the agreement between Xero Asia and MMC Convert is the FREE Data Migration Campaign for Xero consumers across Asia.
Inclusion of the FREE Data Migration Campaign:
Data conversion for two years (one historical year in addition to the current year).
It involves single currency file. In other words, the multi-currency feature should not be active in your existing accounting software.
Easy Conversion Preparation: As mentioned earlier, data conversion to Xero may involve a lot of preparations. MMC Convert takes care of the same by assisting in:
Cleaning and profiling the existing data in your current accounting software. It includes correcting the inaccurate information as well as updating the latest information.
Completing pending tasks like reconciliation of all bank accounts.
Deleting inactive accounts and merging duplicate accounts for chart of accounts conversion as it can have no more than 699 accounts.
Simplified Conversion Process: With MMC Convert, you enjoy an extremely simplified process of data conversion that would be executed smoothly. The steps involve:
Uploading the files to MMC Convert's website (the company guides enterprises to use the right file formats .qbb, .qbw, .xlsx, .myo and so on).
Choose the desired conversion date
Receive validation for the file
Enter all necessary details and submit the file for conversion
Conversion happens and your Xero file is ready to use.
Fast Data Conversion: MMC Convert takes few hours to up to 3-5 working days to facilitate fast data conversion. The time consumed would depend on the type and size of the file.
Round-the-clock Support: MMC Convert offers complete customer support for 24 hours on all days of the week to answer all your queries and concerns.
Whether you are a small to medium size enterprise in Asia or an accounting or bookkeeping firm offering services to organizations across the continent, you can leverage all great benefits from Xero Asia-MMC Convert tie-up.