Are you interested in Quickbooks to Zoho Books Migration?
You may be searching for the best possible method for conversion from QBO to Zoho Books.
You should migrate to the best accounting software for your business as it can automate business operations. The accounting software of your business should also meet your expectations on both price and usability.
You consider migration from Quickbooks Online to Zoho Books as it is an elite accounting solution for your business. Zoho Books has some unique features which make it the preferred choice for businesses.
Zoho Books is a comprehensive cloud accounting platform that takes care of your business finance. Zoho Books takes care of your core accounting, stock tracking, bank reconciliation, and managing projects, keeping your business GST compliant and automating workflows. So, It's the perfect choice for small businesses, freelancers, and solopreneurs.
Some of the unique features of Zoho Books are:
Intuitive and easy to use, the Zoho Books platform features a straightforward dashboard and versatile, multifunctional client portal.
It is one of the most affordable accounting apps on the market.
You can access your data from anywhere, at any time as it is cloud-based.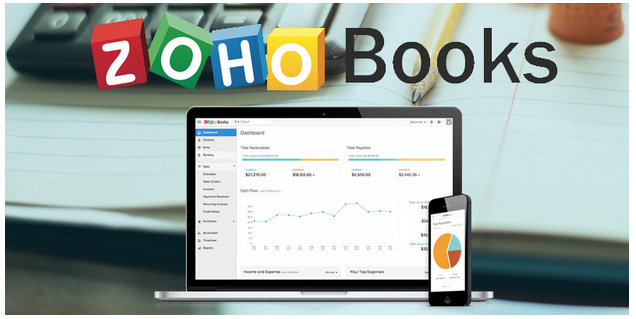 What makes Zoho Books the favored accounting software for businesses?
1. Invoicing & Billing
Managing invoices manually is time-consuming and error-prone. Businesses face the challenge of tracking invoices and reminding customers of pending payments without automated software. Zoho Books offers you exceptional features that make your invoicing process easier.
2. Expense Tracking
Businesses can effortlessly track their expenses and cash flow with Zoho Books. There is no risk of losing paper records as there is no requirement of storing them.
3. Bank Reconciliation
Businesses can easily connect their bank accounts with Zoho Books and fetch statements from bank feeds automatically into their accounts.
4.  Inventory Management
Zoho Books Software gives the best inventory management system to record item information, track items, account, and generate reports.
5. Project Management
Businesses can track their project's pace, identify shortcomings, and resolve them quickly with Zoho Books. The time spent on tasks can be recorded to avoid overbilling and underbilling customers.
When selecting a migration service, it's important to consider factors such as their experience and expertise, the quality of their customer support, and their pricing and payment options.
If you want to convert from QBO to Zoho Books because of its easy-to-use interface or affordable price, MMC Convert will meet your needs.
For a seamless migration from QBO to Zoho Books, consider MMC Convert as your go-to service provider. MMC Convert can facilitate a smooth and efficient migration of your data.
Migration Process From QBO To ZOHO Books
MMC Convert is Certified Zoho Partner. We adhere to strict quality standards while facilitating quickbooks to zoho books migration.
To convert your data from QBO to Zoho Books, follow these simple steps:
Step 1 – Send your details
An online form needs to be filled out for our data migration service.
Step 2 – Leave it with us
We will contact you to get started on the data migration process after the submission of the form.
Step 3 – Review
Expert professionals at MMC convert will contact you and request that you go through your information.
Step 4 – Confirm
The MMC team will transfer ownership of your files to you once you are happy with your migrated data.
Why MMC Convert for quickbooks to zoho books migration?
Migrating from one accounting software platform to another is not simple, but MMC Convert will make it much easier. We offer a very simple and safe solution for migrating from QBO to Zoho Books.
MMC Convert offers an easy and efficient way to migrate data from QBO to Zoho Books. Experienced professionals at MMC Convert have years of experience in the migration of data from QBO to Zoho books.
Contact us today to see how we can help your business successfully migrate from QuickBooks Online to Zoho Books. Your business will receive the most personalized migration services from us and we will ensure that you get the best solution.
We will be happy to answer any questions you have regarding quickbooks to zoho books migration and help get you started on the path to success!