Choosing the right accounting software is an ongoing endeavour as businesses seek solutions that align with their ever-changing operational demands. MYOB AccountRight has been a popular choice for many firms, but there are instances when you might find Reckon One better aligns with your evolving business requirements. This blog delves into why you should consider migrating to Reckon One and how MMC Convert can offer a smooth and secure migration pathway.
Features of Reckon One Accounting Software
1.Multi-User Collaboration
Reckon One stands apart with its capability to support multiple users concurrently, making it easier for your team to collaborate in real time and work on financial data simultaneously.
2.Dynamic Reporting Tools
The software offers dynamic reporting tools that adapt to your needs. You can modify report formats, include specific data points, and even set up automated reporting schedules.
3.Centralized Data Hub
Reckon One is a centralized hub for all your financial information, eliminating the need for disparate spreadsheets and databases. Everything from invoices to vendor details can be accessed in a single interface.
4.E-commerce Integration
Reckon One provides seamless e-commerce integration for businesses that operate online, streamlining everything from payment processing to inventory management.
5.Project Accounting
Unlike traditional accounting software, Reckon One offers a robust project accounting feature that helps you track the profitability and expenses of individual projects in real time.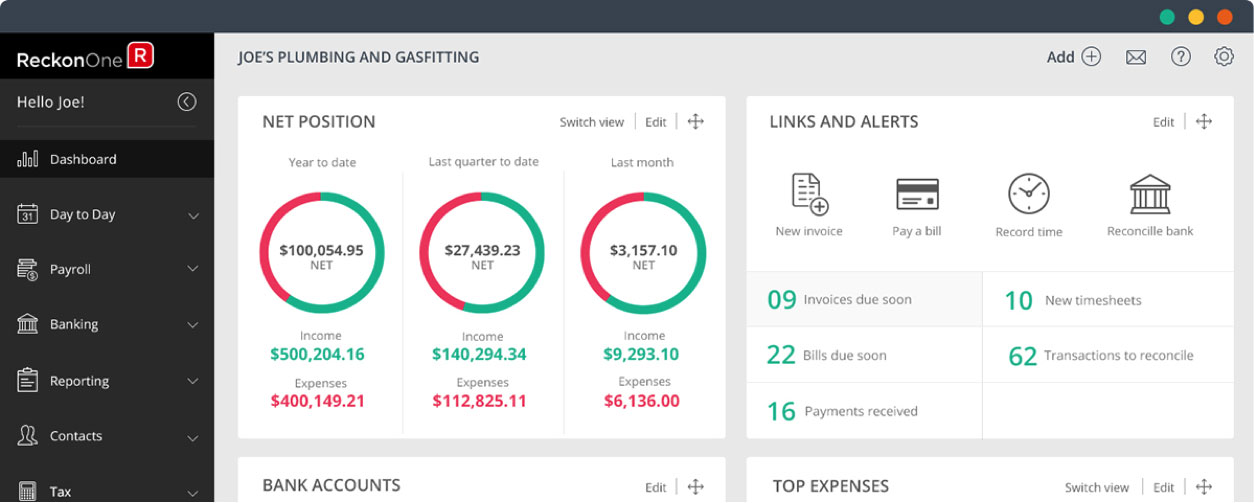 Benefits of Reckon One Accounting Software
1.Comprehensive Data Import
Reckon One offers a strong data import feature, letting you transfer data from various sources without manual entry, reducing errors and saving time.
2.Role-Based Access
Customize user access based on roles to enhance security and maintain confidentiality, ensuring that employees only see the data pertinent to their job functions.
3.Customization
The software can be customised, allowing you to plug in or remove specific modules per your business needs, offering great value for money.
The Conversion Process with MMC Convert
Migrating from MYOB AccountRight to Reckon One becomes manageable with MMC Convert by your side:
Initial Consultation: A dedicated consultation is the first step, where we understand the nature and complexity of your existing data.
Field Mapping: MMC Convert ensures that every data field in MYOB AccountRight is mapped to the corresponding field in Reckon One, guaranteeing data fidelity.
Migration Execution: We oversee the migration, ensuring all records, be they invoices, vendor details, or historical financial data, are transferred securely.
Validation Process: Post-migration, a stringent validation process ensures data integrity and completeness.
Post-Conversion Guidance: We continue to provide support and guidance as you adjust to your new accounting software, ensuring a smooth transition.
Why MMC Convert for Migrate to Reckon One
MMC Convert provides more than just a migration service; it's a strategic partner in your journey towards better financial management. With extensive expertise in securely migrating complex financial data, we are the go-to choice for businesses of all sizes.
Contact Us today to discuss your migration from MYOB AccountRight to Reckon One. Our dedicated team is on standby to answer all your questions and help you make an informed decision.