In today's rapidly evolving business environment, having an agile, cloud-based enterprise resource planning (ERP) system like NetSuite is crucial for ensuring efficiency and fostering growth. Irrespective of your business's scale, NetSuite empowers you with unmatched visibility, agility, and control for timely and informed decision-making.
This seamless integration allows you to have a detailed insight into your business operations, accessible from anywhere at any time, all harmonized in one convenient location. Migrating to NetSuite with MMC Convert is not just a shift—it's a significant upgrade in operational proficiency and simplicity.

Features of NetSuite
1.Comprehensive Cloud ERP Solution
NetSuite offers an all-encompassing cloud-based ERP solution, suitable for various industries and business sizes. It streamlines processes by automating business functions in financial management, revenue management, inventory management, order management, billing, e-commerce, and CRM.
2.Real-Time Business Intelligence
Get real-time, actionable insights into crucial business performance indicators for a unified and precise view of your organization. With NetSuite's built-in business intelligence, make data-driven and informed decisions to steer your business towards growth and profitability.
3.Anywhere, Anytime Access
Accessibility is a paramount feature in NetSuite. It allows users to access their business information at any time from anywhere in the world. This global access ensures that businesses operating in multiple locations can remain connected and cohesive.
4.Customizable and Scalable
Customize NetSuite to fit your business's unique needs and workflow. Its flexibility and scalability mean your software grows with your business, ensuring longevity and relevance as your enterprise evolves.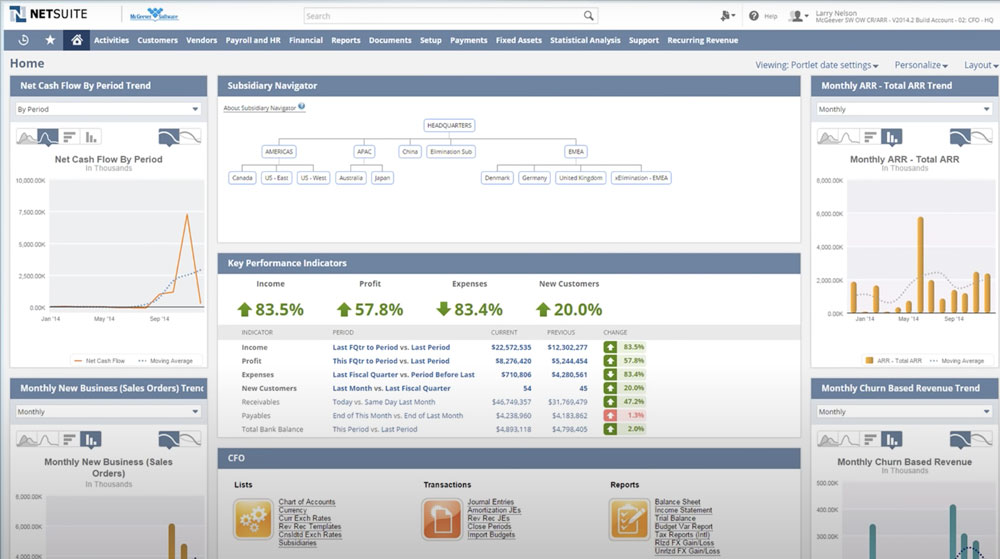 5.Integrated E-commerce
For businesses involved in e-commerce, NetSuite provides a unified, integrated solution. Manage all your e-commerce needs from a single platform, ensuring consistency, efficiency, and a unified customer experience across all channels.
These key features of NetSuite make it a compelling choice for businesses seeking an integrated, flexible, and comprehensive ERP solution. Migrating to NetSuite with MMC Convert is a strategic move towards enhanced efficiency and growth.
Conversion Process to NetSuite with MMC Convert
Migrating to NetSuite becomes a straightforward and efficient process with MMC Convert. The steps involved are:
1.Data Assessment:
Conducting a thorough analysis of your NetSuite data is paramount, setting the migration's scope and requirements.
2.Customization:
The migration plan incorporates any unique data structures and custom fields necessary for your business.
3.Data Transfer:
Every piece of financial data, from historical records to vendor details, is transferred diligently.
4.Final Review:
Ensuring data consistency and accuracy before the final handover, guaranteeing a smooth transition.
5.Post-Migration Support:
Continuous support post-migration ensures seamless adaptation to NetSuite.
Why MMC Convert for Migrate to NetSuite?
If you have found that Netsuite is a perfect fit for you, look no further than MMC Convert. Our seasoned migration services team adeptly moves your data to NetSuite, letting you focus on what you excel at—running your business.
With years of extensive experience in migrating businesses between various accounting software, we ensure you stay atop your business needs with real-time access to essential information, anywhere, anytime.
Considering migration to NetSuite? Contact us today for more insights and assistance. Entrust your migration to us and embark on your path to success with NetSuite and MMC Convert.