Do you want to migrate your data from Reckon to another accounting software?
Reckon is a software company based in Australia that specializes in assisting small businesses with managing accounting-related tasks from anywhere. Their offerings include desktop and cloud-based accounting software suitable for accountants, bookkeepers, small to medium-sized businesses, and individual users.
If you're considering switching from Reckon, Zoho Books is the ideal solution. With MMC Convert, transferring your data from Reckon to Zoho Books is easy. Our team possesses significant expertise in migrating businesses from one accounting software to another.
Zoho Books is an all-inclusive cloud-based accounting platform that effectively manages your business finances. With Zoho Books, your core accounting tasks, bank reconciliation, stock tracking, and project management are taken care of, ensuring your business remains GST-compliant while automating workflows. As a result, it is the perfect choice for small businesses, freelancers, and solopreneurs.
Hence, Zoho Books serves as a complete platform for efficiently managing and organizing all your transactions.
Some of the unique features of Zoho Books:
The Zoho Books platform offers a user-friendly dashboard and a versatile, multi-functional client portal. Zoho Books boasts a user-friendly and efficient user interface, making it effortless to navigate.
It is one of the most affordable accounting apps on the market.
You can access your data from anywhere, at any time as it is cloud-based.
Zoho Books prioritizes the privacy and security of your data by implementing various measures such as IP restrictions, two-factor authentication, SSL, and more. This ensures that only authorized users designated by you can access your data.
Zoho Books pricing plans are created to be budget-friendly and suitable for businesses of all sizes, ranging from individual proprietors to enterprises.
Zoho Books enables you to upload documents like receipts and attach them to transaction records. Therefore, it facilitates the storage of all your documents in a single, centralized location.
You can configure your personal settings and import your existing data to accelerate the data collation process in every module.
Through Zoho Books, businesses can effortlessly link their bank accounts and automatically retrieve bank statements via bank feeds into their accounts.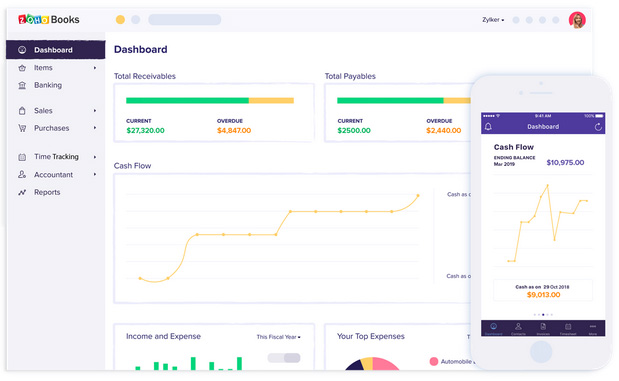 Why Zoho Books is the preferred accounting software for businesses?
Invoicing & Billing
Manual management of invoices is prone to errors and can be time-consuming. With automated software, businesses can easily keep track of invoices and follow up with customers regarding outstanding payments. Fortunately, Zoho Books offers exceptional features designed to streamline your invoicing process.
Inventory Management
Zoho Books software offers the most efficient inventory management system available, capable of recording item information, tracking inventory, managing accounts, and generating comprehensive reports.
Project Management
Zoho Books empowers businesses to monitor the progress of their projects, identify any issues, and resolve them efficiently. The software enables you to track the time spent on specific tasks, preventing instances of overbilling or underbilling customers.
"Take the first step towards improving your financial management with Zoho Books – trust MMC Convert to migrate your data from Reckon seamlessly and efficiently."

Migration Process from Reckon to Zoho Books
MMC Convert is Certified Zoho Partner, we follow their rigorous quality guidelines for migration from Reckon to Zoho books.
To convert your Reckon data to Zoho Books, follow these simple steps:
Step 1 – Send your details
To avail of our data migration service, you need to complete the online form provided.
Step 2 – Leave it with us
We will contact you to get started on the data migration process after the submission of the form
Step 3 – Review
Once you submit the online form, the MMC team will contact you and request that you review your information.
Step 4 – Confirm
We will transfer ownership of your files to you once you confirm your satisfaction with the migrated data.
Conclusion
Migrating from one accounting software platform to another can be a complex task. But, it becomes a much simpler process with MMC Convert. Our company offers a simple and secure solution for businesses looking to Migrate to Zoho Books.
You can be assured that no critical information will be lost during the migration process from Reckon to Zoho Books when you choose our services. Our team of expert support staff is available round-the-clock via phone or chat to answer any questions you may have along the way.
Contact us today to discover how we can help your business achieve a smooth migration from Reckon to Zoho Books. Our company offers customized migration services tailored to your business, guaranteeing the ideal solution for your specific requirements.