Are you looking for a way to migrate from MYOB essentials?
MYOB Essentials is a web-based accounting software that can be accessed through an internet web browser
Zoho Books is the best solution if you want to migrate from MYOB essentials. MMC Convert helps to migrate from MYOB essentials to Zoho books. Our team has extensive experience in transferring businesses from one accounting software to another.
Zoho Books is a comprehensive cloud accounting platform that manages your business finances. Zoho Books takes care of your core accounting, Bank reconciliation, stock tracking, and managing projects, keeping your business GST compliant and automating workflows. Therefore, it is the ideal selection for small businesses, freelancers, and solopreneurs.
Hence, Zoho Books is a one-stop platform for managing and organizing your transactions.
These are some of the features of Zoho Books:
The Zoho Books platform offers a user-friendly dashboard and a versatile, multi-functional client portal. An effective, user-friendly User Interface makes Zoho Books easy to navigate.
It is one of the most affordable accounting apps on the market.
You can access your data from anywhere, at any time as it is cloud-based.
Zoho Books ensures the privacy and security of your data through IP restrictions, two-factor authentication, SSL, and other measures. Only the users authorized by you can access your data.
Zoho Books is designed to facilitate seamless connectivity for your business across various platforms. Extend your accounting with a library of more than 300 business apps via Zapier, or take advantage of built-in connections with other apps in the Zoho suite.
Zoho Books has been built with reliable features that safeguard your data and deliver precise outcomes for your accounting needs.
Zoho Books pricing plans are created to be budget-friendly and suitable for businesses of all sizes, ranging from individual proprietors to enterprises.
Zoho Books enables you to upload documents like receipts and attach them to transaction records. Hence, it helps to store all your documents in one place.
You can configure your personal settings and import your existing data to accelerate the data collation process in every module.
You can customize the appearance of the templates you use in sales and purchase transactions to suit your needs and reflect your business image.
By using Zoho Books, businesses can seamlessly link their bank accounts and automatically retrieve bank statements via bank feeds into their accounts.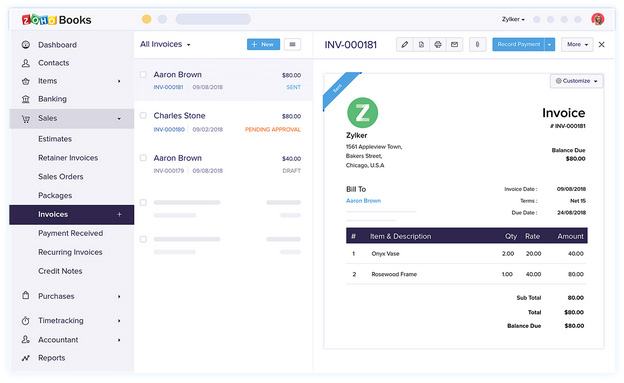 What makes Zoho Books the preferred accounting software for businesses?
1. Invoicing & Billing
Managing invoices manually is time-consuming and error-prone. Without automated software, businesses have difficulty keeping track of invoices and reminding customers about outstanding payments. Zoho Books provides outstanding features to simplify your invoicing process.
2. Expense Tracking
Using Zoho Books, businesses can easily monitor their expenses and cash flow. Since there is no need to store paper records, there is no risk of losing them.
3. Inventory Management
Zoho Books software provides the most effective inventory management system for recording item information, tracking items, managing accounts, and generating reports.
4 Project Management
With Zoho Books, businesses can track the progress of their projects, identify any shortcomings, and quickly resolve them. The software allows recording of the time spent on tasks to prevent overbilling or underbilling of customers.

Conclusion
If you are looking to Migrate to Zoho Books, MMC Convert can make the process much more effortless for you. MMC Convert offers an easy and efficient way to migrate data from MYOB Essentials to Zoho Books. The skilled professionals at MMC Convert possess several years of expertise in transferring data from MYOB Essentials to Zoho Books.
You can experience seamless and hassle-free migration from MYOB essentials to Zoho Books with our customized solutions that maximize efficiency. We would be delighted to address any inquiries you may have and assist you in commencing your journey toward success.
Get in touch with us today to explore how we can assist your business in achieving a seamless migration to Zoho Books. We provide tailored migration services to your business, ensuring the optimal solution for your needs.