Are you struggling to convert your PDF to CSV for QuickBooks? Well, it's not an issue until you are here with us. So let's get on some briefs before we move on to the actual topic.

Quickbooks are used for micro-businesses, managing personal finances like income tracking, expense management, and receipts organization. It's okay if this term is new to you; you can still import PDF statements by first transforming them into CSV files quickly in no time.

CSV is an abbreviation for Comma Separated Values files. CSV translates excel file data into plain texts, separating each column's text with a comma. Most databases work on CSV files, also known as character-separated values. If you are willing to export complex data from one application to another, a CSV file will help you export that data from one app and export it to the other in no time.

How to Convert PDF Bank Statements To CSV for QuickBooks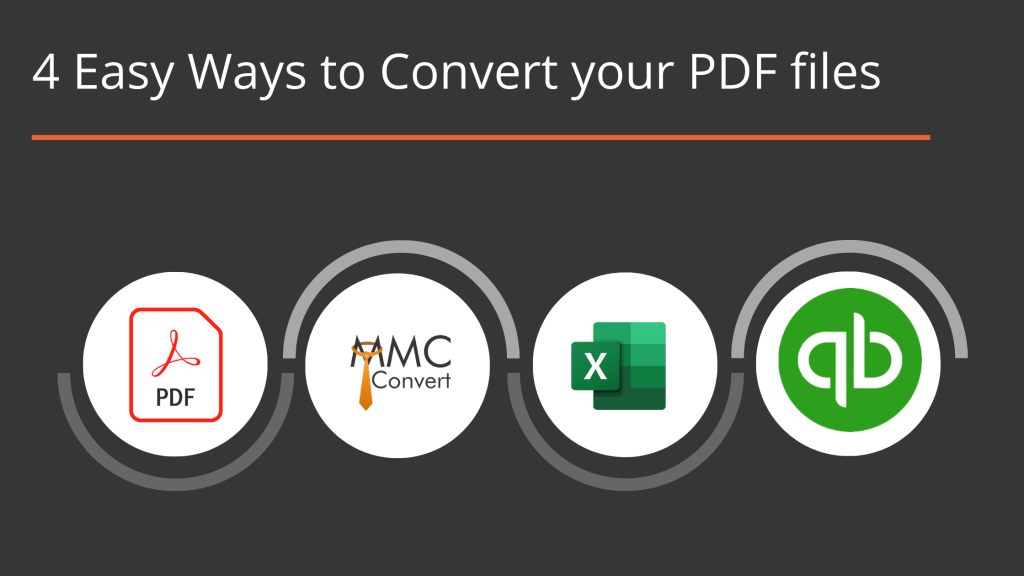 Converting Bank statements PDF to CSV for QuickBooks is not a complicated job. Here are a few easy steps to follow: 

Step 1: First, upload your Bank statement PDF format in MMC Convert. The easiest way to convert many PDFs is to put them into a single zipped file. This will help save money and time. 

Step 2: The MMC converter also checks the accuracy while converting the statements.
Step 3: The statements are sent via email in an editable CSV format.
Step 4: Once we convert your PDF bank statements into the CSV format, we can easily migrate the data from excel to your QuickBooks account.
Why Convert PDF Bank Statements To CSV For QuickBooks
People find a need to convert their bank statement PDF or credit card statements for accounting software. Several problems come our way and make the process a part of the big hassle.

MMC convert is the answer to the problems that make the process less hectic and time-friendly. Here's what it does for you:

People don't have much time to spare on this task to convert PDF bank statements into CSV.
It is hard for you to manage and convert each statement manually. The process is time taking, and you can convert several PDFs into CSV files in one go without wasting time.
For a quick solution, you need the CSV file on an urgent basis without wasting any time, the converter got your back for this.
You don't have time to check for the accuracy of the figures and data collected, so MMC convert will help you get the data with 100% accuracy.
Why Choose MMC Convert For Converting Pdf Bank Statements To CSV?

MMC convert makes the process hassle-free by reducing the manual burden laid by converting each PDF bank statement into a CSV file. It can convert different PDF formats from simple to scanned files into the desired CSV format.

Machine intelligence is used here for data extraction while for OCR recognition it uses a custom engine. The data that can spread across multiple lines in a file is automatically organized into a single line in CSV and Excel files with this magic tool. This helps in the swift import of data into accounting software or spreadsheet.
Things You Get With MMC Convert

MMC convert can easily convert the single currency PDF format file into editable CSV files.
It can even convert scanned PDFs and efficiently help import data into CSV or Excel.
The data will be imported with 100% accuracy ensuring an error-free file.
The conversion takes place in less than three days and with precision.
You are allowed to edit the converted CSV file into a spreadsheet.
It allows you to directly import it to your desired accounting software.
You can archive all your data with security.
It will allow you to run pivot tables for data analysis.
The data will be divided into three columns: Data, Description, and Amount.
MMC convert will gather the statements exceeding more than a line into one line.
For the missing bank and credits statement, MMC convert will manage to restore balance by adding on a line.
If you have got time that can be utilized doing something productive, you don't want to spend it on things that can be done quickly without time waste. MMC convert can help you solve this problem by making this process easy. Convert any PDF files into CSV with 100% accuracy in no time with the magic MMC convert. This will help to collect your data to convert to QuickBooks in less than three days and with precision for your professional work.
Convert PDF bank statements into CSV files for importing into QuickBooks with ease! This will save you time and energy from having to convert PDFs manually.